PROFILE
Click Here to view my current CV
With over 20 years of experience in SaaS and enterprise software, I have established myself as a seasoned Head of Marketing. I love making complex ideas simple and telling engaging stories that resonate. Throughout my career I have developed skills
across various domains of marketing, enabling me to thrive in multicultural and international team environments. I approach my work with a proactive mindset, consistently seeking opportunities to excel. While I prioritise long-term growth strategies, I also recognize the value of growth hacks and adapt accordingly. I firmly believe in the importance of continuous learning and embracing new experiences, and supporting others to do the same. Motivated by this, I have published several books.

Here you can watch or download my Resume, or as we call it in the UK, CV.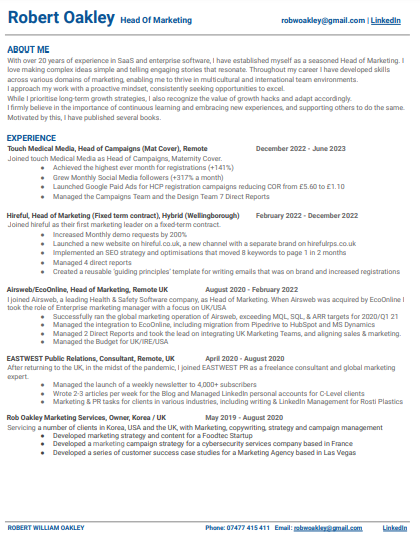 So far in my career, I have been fortunate to have the opportunity to work in the UK, Spain, and Australia and most recently in South Korea.
I returned to the UK in January 2020. For the previous 7 years, I was based in Seoul as were I launched my own business and held several marketing roles in startups and technology companies. For the majority of my time in Korea, I worked as Global Marketing Manager for Korea's leading enterprise Software Company.
This has given me the opportunity to not only create and execute digital marketing campaigns, create content, in EMEA, APAC and North America, but also to work across cultural and geographical borders in an internationally based team.
The tools in my stack are Pardot and SFDC, Hubspot, Zoho, Mautic, Mailchimp and MailJet. For Analytics data, of course, Google analytics, data studio, as well as marketing automation software native tools.

I am always keen to try new things and believe that there is always an opportunity to learn more.
In 2016 and 2017 I was responsible for organizing a number of product-focused events, in Seoul for customers and partners from overseas. Guests were able to participate in the event as well as enjoy hosted dinners and experience traditional Korean culture, in a post-event entertainment program.
In my spare time, I enjoy active family life, international travel and have been involved in some local community volunteering projects.
I also run a couple of blogs and websites to develop skills outside of corporate marketing.
I have a degree in Computing and Information systems and love all things tech-related.
I am competent in using CMSs (WordPress etc. I made this site in WordPress) and have a good working knowledge of HTML and CSS.

I am a qualified English (ESOL) teacher, and use this qualification in volunteer activities, most recently in a Korean government-run program for resettling North Korean refugees.
I am currently seeking new opportunities, why not arrange a call with me to see if I am a good fit.
Regards
Rob Oakley