My family are pretty big meat-eaters. We eat a lot of vegetables, but rarely exclusively vegetarian meals, and never Vegan, before. This week we tried something new! Some Vegan Meal kits from Grubby.
What's this got to do with marketing?
So you may be wondering what this has to do with Marketing? Well, there is a connection. The way this came about was that I entered a competition on Instagram, with the chance of winning £172 worth of food! A couple of days later I got a phone call – I hadn't won. But the lady who called (who was really nice and friendly) offered me a 50% discount on a trial. This discount is available until the end of February, I think.
You can get a credit in your account along with the discount by using this link
Anyway, this is the marketing play,
Generate leads by offering a chance to win by entering a competition,
follow up the leads with a phone call about a discount offer.

I think she said something like – the response to the competition has been really huge, so we would like to ask a few questions about why you entered.

After the 2 questions, she positioned the offer. of the 50% discount and free delivery.
Usually, I would have been – "no, it's a scam! I want it free or nothing…" ha. But the friendly caller had me hooked.
To be honest, I have been thinking a lot about the impact of food production (especially for meat), sustainability, health etc, which is probably why I entered the competition.
A few days later the meal kits arrived. The meal kits that week were; Vegan Balti with Green beans, potato, and white basmati rice and Jackfruit Chilli sin Carne with Black beans and wholegrain rice (apparently).
Leveraging other brands
Grubby marketing seems pretty slick with a couple of trendy tie-ins. The recipe cards (Card in my case but will come to that later) feature a QR code and link to a Spotify playlist, which lasts for the duration of the cooking time, which I thought was a great tie in. – I imagine, for families with younger kids it would be great to get them involved in the cooking experience, healthy food and entertainment I have (almost) 2 teenagers, so I didn't even try!
If your business offers a timed activity like cooking, or exercising, meditating etc, then linking it to a Spotify playlist is a great way to get something interactive into the mix and leverage other brands too, which can make your brand more appealing relevant and trendy.
Grubby Vegan Balti with Green beans, potato, and white basmati rice
So meal kit one! Firstly, I really want to apologise to all Vegans.
So I told my wife that tonight I would be cooking a vegan meal! As I was preparing to cook our families first-ever vegan meal, my wife said "There is some chicken in the fridge that needs using, so you can add that" and I am sorry, but I did.
So despite not actually being a vegan meal, I kept to roughly the 30 min cooking time, and it was not bad. and although the meal kits say 3 portions it was probably enough for 4. my wife and daughter 'tried some' too.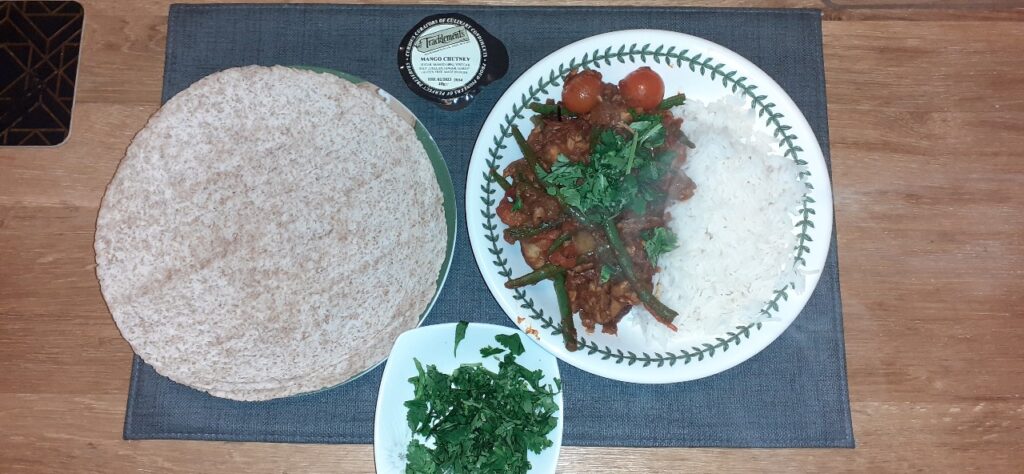 Grubby Jackfruit Chilli sin Carne
Meal number 2 was also tricky but I did go for the full vegan experience. But there was no meal card, unless actually it was on the back of the other one and I lost it? (maybe?)
Jackfruit was weird, I have only ever eaten fresh jackfruit before, in Vietnam, so tinned Jackfruit which comes in salted water was very different.
But, this meal was actually really good, but I was not given wholegrain rice with the kit, – I am a bit miffed as I quite like brown rice – also came with Avocado so thumbs up, especially from my daughter! She actually really enjoyed this meal and said it was tasty.
One more thing – @grubby The recipe online does not say what to do with the Agave syrup… I don't know what it is, so I didn't use it!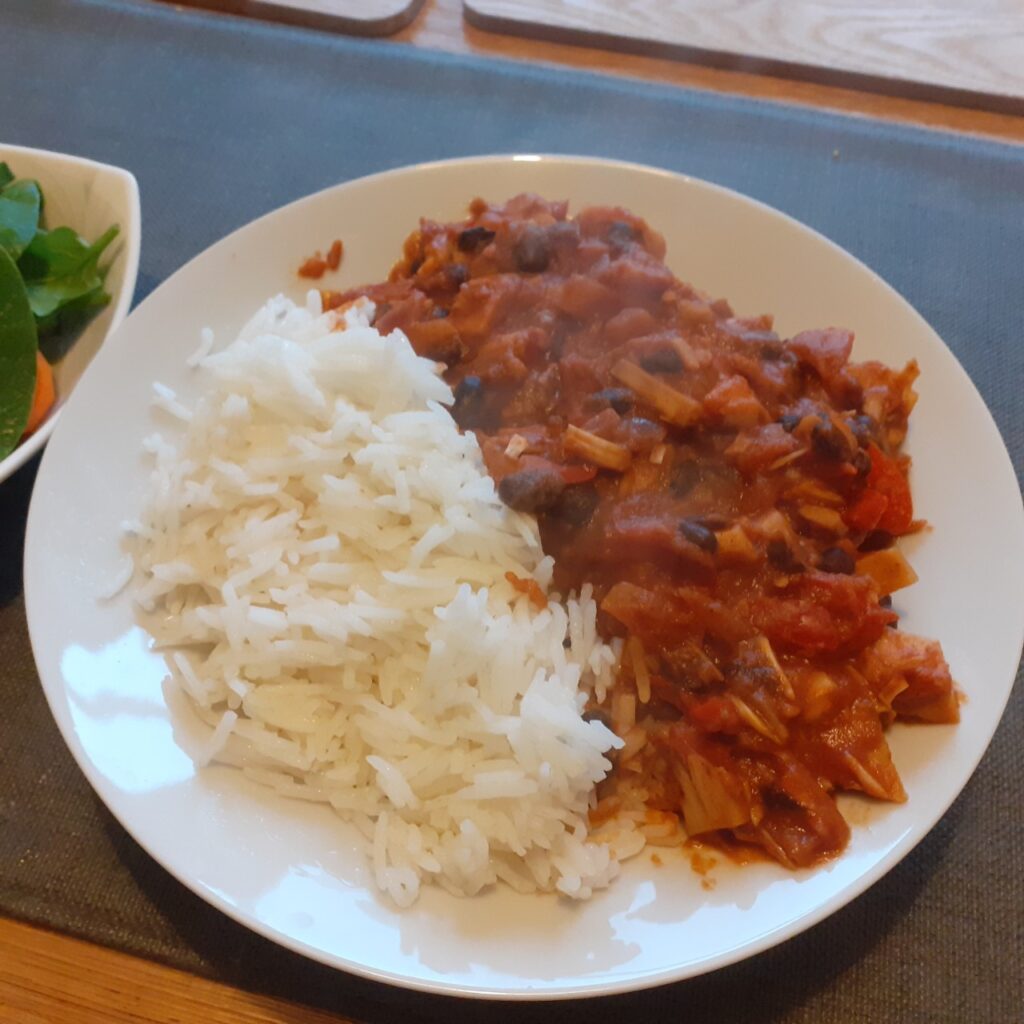 In conclusion
Actually the meal kits are not great value for money, £26 for 6 portions and I think that is normally plus delivery. so if you are looking for a cheap way to feed the family it is probably not the way to go.
However, the portions are quite big so could probably feed 4 and you could add extra veg to it, or chicken (sorry!)
If you want to try it for your self (The menu changes each week) you can click here and you will also get £20 credit in your account
Another 'charitable' tie in
For every box, Grubby will donate a meal to a starving child, and have so far feed over 10,000 children
So all in all it was a taste good, feel good experience.